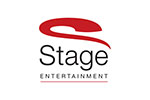 Company
Founded in 1998 by Dutch television and theatre entrepreneur Joop van den Ende, Stage Entertainment is one of the world's largest theatre producers and owners. Stage Entertainment employs more than 3,000 people worldwide, and over 7 million visitors attend a Stage Entertainment production every year. The company has earned a reputation as a first-class theatrical production company focusing on Europe. With offices in the Netherlands, Germany, the United Kingdom, Spain, Russia, France, Italy and the United States, the group produces some of the best-known titles in musical theatre. Today the brand is widely known for the exceptional quality of its shows and the warm hospitality extended to its audiences.

Stage Entertainment's business strategy comprises three key activities: producing a wide range of leading international content, including shows like Mamma Mia!, The Lion King, Tarzan, Beauty and the Beast, Aladdin, Les Misérables, The Phantom of the Opera, War Horse, Mary Poppins, and Wicked; owning and operating a network of musical theatres; and developing new musicals and shows, such as international productions Sister Act, Rocky and Anastasia and local titles like Hij Gelooft in Mij, Ciske de Rat, Petticoat (the Netherlands) and Ich war noch niemals in New York and Das Wunder von Bern (Germany).

Stage Entertainment has played a key role in the development and widespread popularity of the musical genre on the European Continent. The rapid growth of the company since its inception has been the result of a drive and passion for theatre embodied by all those working at the group. From the start, Stage Entertainment has striven to produce top-quality productions in its network of theatres. As a part of this process, the company has invested heavily in theatre venues as well as in the professional training of artists, managers and colleagues in production, finance, marketing and PR.

The HQ of Stage Entertainment is located in Amsterdam. For the HQ we are currently recruiting a Tax Manager. It is a broad group tax position and you will be involved in several national and international tax projects. The company offers you a diverse tax position within a dynamic, international and very interesting work environment.

Tasks & responsibilities Tax Manager
Provide tax support to the various departments
Monitor changes in tax legislation, tax rulings, regulations and understand the relevant impact by ultimately recommending and implementing responsive action to existing positions
Assist with the tax analysis of new business operations and international expansion plans; support with tax planning
Develop the Tax Risk Control Framework, provide audit support
Support country FD's in interfacing with tax authorities in countries where the Group operates (with external tax advisor support); including co-ordination of tax audits, negotiation of tax issues, filing of appeals, and directing litigation on request
Effectively manage relationships with outside tax advisors, internal and external auditors, and tax authorities
Support to due diligence and planning efforts related to decisions on structuring asset/entity acquisitions, disposals and international joint ventures including managing of tax aspects of new subsidiary formations
Support to contracts in coordination with legal and finance departments
Manage the preparation and review of the Group's tax reporting, exposures and the associated compliance obligations
Coordinate the corporate income tax return on behalf of the Dutch fiscal unity (actual return is drawn up by an external consultant)
Assist HQ Finance Team and local Finance Teams in quarter and year end processes and manage the Group's effective tax rate and the adequacy of the Group's current and deferred income tax provisions
Manage implementing and monitoring global transfer pricing strategy and documentation in relation to intercompany transactions, including Master File/Local File and coordinating with local Finance Teams on local transfer pricing requirements
Assist in implementing and monitoring global transfer pricing strategy and documentation in relation to financial transactions
Manage FATCA compliance obligations
Profile Tax Manager
Academic degree in fiscal law or fiscal economics
Approx. 6-10 years of relevant tax experience (international tax practice (Vpb) or a more general tax advisory practice with international accents)
Good in English and Dutch
Excellent written, verbal and interpersonal skills in order to interact with finance staff and senior management
Strong organizational skills
Ability to prioritize and manage multiple tasks
Ability to independently manage workload
Hands-on personality and flexibility to work in a dynamic, entrepreneurial and fast-changing environment
Willingness to limited travel (approximately 5% of the time) mainly to continental European countries
Locatie
Amsterdam
Opdrachtgever
Stage Entertainment
Publish date
21.07.2018
Contactpersoon
H. Teuben
T: (020) 4714 200

Deel deze vacature
Meer details
Match criteria


Full time
Part time 4 dagen